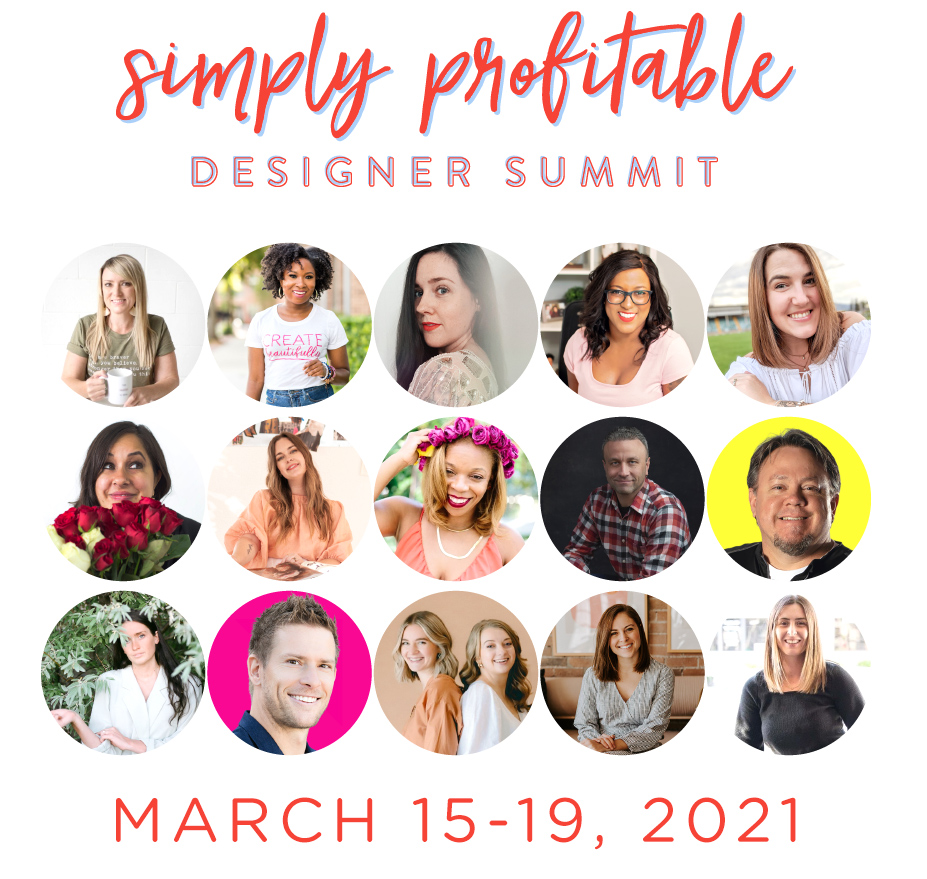 "Don't miss this 5-DAY VIRTUAL Summit for Designers
to help you grow your design business"
March 15-19, 2021 • Pre-Register Now!
Tickets Are FREE! • 5 Days • 40 Speakers/Topics to GROW Your Business
Pre-Register TODAY to get your FREE ticket AND get TWO EXCLUSIVE BONUSES…
A Pre-Summit Strategy Call and A Post-Summit Debrief and Action Call!
"Simply Profitable Designer Summit"
The summit is back for 2021 and will be BIGGER and BETTER than ever.
Last year, more than 4,000 designers attended the summit and were able to learn from the best freelance design business owners and make their businesses more profitable without the overwhelm.
And, the stories were powerful…
They loved the strategies…
Helpful connections were made…
And, the motivational BOOST to grow and scale their businesses to new levels!
"This Year's Event Will Be Even BETTER!"
So… the Simply Profitable Designer Summit is back again and promises to be better than ever!
As freelance designers, we need the right strategies…
The connections… The clients… And the motivation to secure and scale our businesses… right?
But, for many of us, these uncertain times have FORCED a lack of movement, travel, networking and growth in our businesses…
And for so many designers, the last 12 months have been super difficult…
It's caused all types fo problems, most of which we have had NO control over!
It's seems like the ONLY thing we can control is how we react.
But, here's the thing.. 
"How we grow is determined by what we know… right?"
We Need To Know:
How to SELL our products and services online…
How to find our VOICE, and get our message of the things we're most passionate about out to the world…
How to build deeper relationships with our clients.
How to ADJUST to the new economic reality.
That's Why There Is The Simply Profitable Designer Summit
The 5-Day Virtual Training Summit for Design Business Owners
You'll hear presentations from presenters who have done work for clients like:
Aflac, Adidas, And1, Chick-fil-A, Disney, Nike, Sprint…
You'll Hear Presentations On Topics Like:
Pricing, Gettting Clients, Creating Content, Social Media Strategy, Getting Referrals, Accessibility, Sales Funnel Design, Selling, Backend Office Processes, Client Onboarding Strategies, Managing Clients, Profitability, Branding Strategy, Design Retainers, Recurring Revenue